What Do I Do If My Crown Comes Off?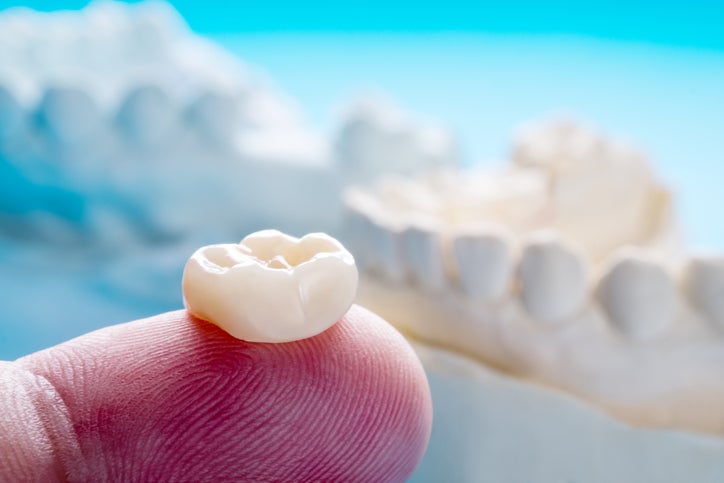 Many Americans have one or more dental crowns. This restorative dentistry option gives you back your smile after a tooth has been damaged by decay or traumatic injury. While crowns are meant to be permanent additions to your mouth—either cemented on top of a natural tooth or screwed into a receiving hole on a dental implant—they do sometimes come loose. Here's what you should do if your crown falls off.
Retrieve the Dental Crown
Once you realize your dental crown is missing, act quickly to resolve the issue. First, locate the crown. If it's still in your mouth, take it out. If it fell on the ground, try to find it. If you swallowed the crown, don't panic—you will simply need to be fitted with a new one.
Inspect & Clean the Crown
Assuming you have located it, rinse off the crown with warm water and examine the interior side closely. If the crown looks completely hollow or has a small metal rod emerging from it, you might be able to temporarily place it back in your mouth before visiting the dentist for a more permanent solution.
However, if you see part of your tooth stuck within the crown, this means it didn't lose adhesion—rather, your tooth has deteriorated further and broken off. In this case, you should not attempt to place the crown back in your mouth. Instead, put it in a safe place, such as a small container or plastic bag, until you can meet with your dentist.
Protect Your Tooth
Crowns are intended to shield the underlying structures of a damaged tooth. This means nerves and other sensitive tissues may now be exposed, causing sensitivity to touch and temperature. You may be able to find dental cement at a pharmacy to temporarily replace the crown until you can visit the dentist. Even if you lost the crown or can't reattach it, you can protect the exposed tooth by molding dental cement or wax around it.
Then, be careful about what you eat. To avoid potentially dislodging the crown again, avoid crunchy, chewy, or tough foods. Steer clear of hot and cold foods as well if they cause you pain. Limit yourself to things like applesauce, pudding, and room-temperature soup until you have a more permanent solution.
Call Your Dentist
Let your dentist know about your emergency without delay. Explain what happened, and make an appointment to repair your tooth immediately —on the same day, if possible. Trust your dentist to pursue the best course of action, which may include putting in a filling, reattaching the old crown, or making a new one.
If your crown has come off, or you have another dental emergency, please contact Park 56 Dental at (212) 826-2322 to request a same-day appointment with our NYC dentist. Rest assured that we're following all recommended safety precautions from the CDC to keep our patients safe during the COVID-19 outbreak.