Meet Our Business Team
Michelle Reyes
Practice Manager
Welcome! I'm the practice manager and I am dedicated to providing our patients with an amazing experience, beginning with the first phone call and continuing on through their recare visits. I ensure that each patient's treatment flows smoothly and efficiently. The best part of my job is sitting with our patients at the end of a visit and asking how their family is doing. We value our patients and take the time to know each and every one of them. At home, my husband, Edward and my daughters, Ariana and Melania, keep my life full and happy!
Email: michelle@park56dental.com
---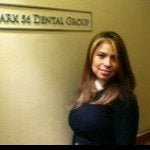 Annette Osorio
Insurance Manager
Email: annette@park56dental.com
---
Lauren Vasquez
Billing Manager
Welcome to Park 56 Dental! As a patient coordinator, I strive to make your visit as easy and effortless as possible. I love that I have the ability to help patients while assisting with all of the elements that are essential to ensure a business runs smoothly. From the moment you walk in the door, you feel at home. The doctors and staff are helpful, friendly and accommodating.
Email: lauren@park56dental.com
---
Krystal Lopez
Hygiene Manager
Krystal will be happy to assist current and new patients with scheduling dental hygiene visits and teeth whitening. Krystal can be reached at: krystal@park56dental.com
---
Mariah Cannon
Patient Concierge
Hello! Welcome to our practice. As the concierge for Park 56's Dental team, I strive to ensure that our patients see us as more than just a dental office. Along with providing the best care, we emphasize a warm and welcoming environment with your total comfort in mind, starting from the initial phone call.
We hope that after your first visit with us that you'll feel part of the Park 56 Dental family!
Mariah's e-mail: concierge@park56dental.com
Why Choose Us?
24 Hour Emergency Service
100+ Years of Combined Experience
Invisalign Premier Provider
Offering Sedation Services
Work with Most Insurance Plans
Flexible Payment Options