How to Reduce Dental Pain from a Broken Tooth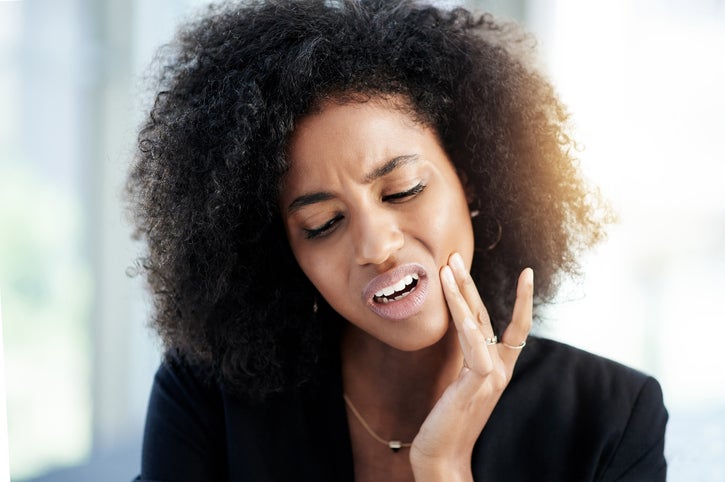 A broken tooth can happen in an instant. All it takes is a forceful impact to the face or biting down wrong on a cavity or filling. Whatever the cause may be, you need an emergency dentist visit to set things right. Give us a call at (212) 826-2322 immediately to schedule a same-day appointment with our NYC dentist. In the meantime, reduce the pain from your broken tooth with these tips.
Take anti-inflammatory medicine: Controlling inflammation is critical for reducing pain from a broken tooth. Over-the-counter anti-inflammatories—such as ibuprofen, acetaminophen, or naproxen—provide temporary pain relief. Just remember that these medicines do nothing to address the underlying issue, so you still need to visit a dentist as soon as possible.
Rinse with salt water: Salt is an antiseptic and anti-inflammatory, making it the perfect substance for a natural mouth rinse. Pour a cup of warm water into a glass and stir in 1/2 teaspoon of salt. Swish the rinse around in your mouth for 10 to 15 seconds, and then spit it out. Repeat this process four to five times a day until you can visit a dentist.
Apply a cold compress: Cold temperatures make blood vessels constrict, numbing the pain and reducing the swelling from a broken tooth. Wrap a bag of ice or frozen peas with a towel and place it on your cheek for 20 minutes at a time. Repeat every few hours.
Chew on garlic: The anti-bacterial and pain-relieving properties of garlic make it an effective remedy for toothaches. Crush a clove of garlic into a paste, add a dash of salt for good measure, and spread it on your broken tooth.
Numb the pain with peppermint tea: Brew a cup of peppermint tea and add ice to cool it down. Then, swish the tea around in your mouth. You can also freeze the used tea bag for a few minutes and place it directly on your aching tooth.
Apply clove oil: Clove essential oil contains eugenol, a natural antiseptic that numbs pain and reduces inflammation. Moisten a cotton swab with clove oil and then add a drop or two of olive oil to dilute it slightly. Rub the swab on the affected area a few times throughout the day. Alternatively, you can concoct an antiseptic mouthwash with 1/2 cup water and a drop of clove oil.
Apply vanilla extract: The antioxidant properties of vanilla extract make it an effective healing agent. It also contains alcohol, which numbs the pain. Moisten a cotton swab with vanilla extract and apply it to the affected area a few times daily.
If you have a broken tooth or other dental emergency, contact Park 56 Dental at (212) 826-2322 to request a same-day appointment. Save the broken-off part of your tooth, if possible, so we can attempt to repair it. Rest assured that we're following all recommended safety precautions from the CDC to keep our patients safe during the COVID-19 outbreak.