The Relationship Between Sleep Apnea and Your Teeth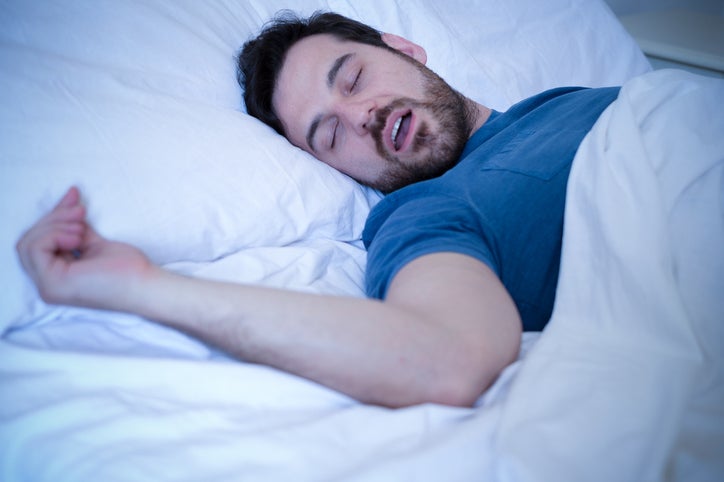 If your dentist were to ask you about your sleep, would that surprise you? In fact, dentists are often the earliest diagnosticians of sleep disorders. What is the connection between oral health and sleep disturbances?
According to the National Sleep Foundation, about 18 million Americans have sleep apnea. This condition involves pauses in breathing throughout the night, lasting from a few seconds to minutes, and sometimes occurring 30 or more times each hour. They happen because of airway obstructions caused by a too-large tongue, flaccid throat muscles, or a too-small jaw. But what does this have to do with your teeth?
Often, the first sign of sleep apnea is bruxism, or tooth grinding. When a dentist notices worn tooth surfaces, this is an indication that the patient suffers from bruxism. Grinding the teeth can cause tooth breakage, and sometimes a spike in cavities because of the damage.
Sleep apnea can be dangerous. It diminishes sleep quality because gasping for breath causes people to wake up throughout the night. What's more, sleep apnea is linked to high blood pressure, heart disease, diabetes, and obesity. It can also contribute to periodontal disease.
You might notice some of the signs of sleep apnea yourself. These include chronic snoring, daytime drowsiness, morning headaches, or waking up with a dry mouth or sore throat. Bruxism can manifest in tired, tight jaw muscles or sensitive teeth. If any of these symptoms seem familiar, talk to your dentist about sleep apnea
If your dentist thinks you have sleep apnea, he or she may recommend a sleep study. Once a diagnosis is confirmed, there are solutions for sleep apnea. You benefit from lifestyle changes like losing weight and quitting smoking, or you might need a custom mouthguard. If your sleep apnea is moderate to severe, you might need a CPAP, or continuous positive airway pressure device. This is a mask that fits over your nose when you're sleeping and uses air pressure to keep your airway passages open. You might also benefit from a custom Often, when the apnea is resolved, the bruxism stops entirely.
At Park 56 Dental Group, we want to deliver the most effective sleep disorder treatment in NYC. Our founding senior partner, Dr. Philip S. Abramsky, specializes in sleep disorders, and he will work to determine which treatment is right for you. Through a series of examination, he'll diagnose the cause of your sleep disorder, in order to recommend the proper treatment. It's all part of our commitment to offering personalized, quality dental care in a spa-like environment. We offer pediatric, prosthodontics, endodontics, oral surgery, Invisalign®, emergency, and sedation dentistry, all at the highest level of treatment. We serve the Midtown, Central Park, Upper East Side, Park Avenue, and all surrounding Manhattan and New York areas, with a patient-centered practice that has hours to fit your schedule. Schedule your complimentary consultation today by contacting us online or calling us at (212) 826-2322.