Why You Should Choose Invisalign to Help Give You A Healthier Smile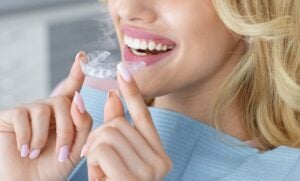 When you think of a beautiful smile, what do you think of? Straight teeth! When you look at your own smile, is there something you wish you could change? Straight teeth are actually easier to attain than you'd think! Let the certified Invisalign experts at Park 56 Dental of NYC help you know how easy Invisalign actually is!
What is Invisalign?
Invisalign is a modern method of straightening teeth without the hassle and diet restrictions of braces. Because the aligner is designed to be removed, it is easier to maintain healthy daily oral hygiene habits that your whole mouth will benefit from! A typical process is completed between 9 and 15 months of wearing the aligners 24 hours a day, other than when brushing, eating, drinking or flossing.
What are the health benefits of having straight teeth?
Straight teeth are more than just a visual bonus.  The American Dental Association says that properly spaced teeth can prevent periodontal disease (red, swollen gums) as well as other periodontal related issues. Additionally, the ability to remove the aligner while under treatment with Invisalign allows for better/ easier access to your mouth so that there isn't as much risk for mouth sores, hidden food getting stuck between wires or brackets, plaque and tartar build up, or other daily challenges that braces can present.
Why is Invisalign for me?
Invisalign is effective at straightening crooked teeth with many, many benefits, such as:
Convenient
Removable, so you are able to keep your teeth and your aligner clean!
Free to eat and drink your preferred food choices without concern for damaging, as with braces
Virtually invisible (Ha! That's why they're called "Invisalign!")
So comfortable, you hardly know they're there!
Easier to clean
Versatility
Game ready! No wires= NO mouth guard needed with an Invisalign!
Produces amazing results quickly
Fewer visits to the dentist are needed (as compared to braces)
What will Invisalign cost?
Remember, when caring for your teeth, you are making an investment in YOU and your overall health! The price of Invisalign treatment varies, depending on duration of treatment. Additionally, if your insurance includes orthodontic treatment, you may qualify for Invisalign.  Park 56 Dental also has payment options so that you may choose a plan that works best for you.
What do people say about Invisalign?
Testimonials are a great resource for making a decisions.  Here are a few testimonials from Park 56 Dental Invisalign patients.
I definitely smile a lot more. Even though I'm still in treatment, it has given me more confidence. It's given me something to look forward to. I feel good about myself. I feel good that I have taken the steps to get these braces. ~Daniel, age 38
 I always wanted to have straight teeth, but never thought my smile would look this great. Plus, no one even knew when I was wearing them. I couldn't be happier! ~Gina, age 26
More than 1,000,000 patients worldwide have been treated with Invisalign and the number continues to climb! If you're curious about Invisalign, don't hesitate to set up a consultation with the certified Invisalign providers  at Park 56 Dental of NYC and schedule a consultation today at (646) 679-3989!