Why You Should Invest in Your Dental Health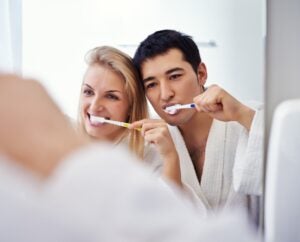 Hey! Yes, you!  You matter!  Let's talk about an important way to show your body that you care!
Yep!  We're talking about your dental health and, in turn, your overall wellbeing!  Your mouth is there for you to help with communicating, both verbally and non-verbally, breathing, and eating.  Your confidence is conveyed through the communications that start from your mouth, including both your teeth and your smile! It is quite difficult to imagine living without a functioning mouth!
Did you know that your oral hygiene and dental health practices impact your entire body?  In fact, many health problems, including oral health, are preventable just by intentionally caring for your teeth! So, let's dive in and see why it is worth your time to invest in your dental health!
Daily Habits are Healthy Habits
 Plaque build-up is a leading cause in gum disease which leads to heart disease, cancer, and other illnesses.  Flossing, brushing, and using antibacterial mouthwash are simple daily habits that can prevent not only cavities but also gum disease and other illnesses.
Check out this fact: The U.S. Centers for Disease Control (CDC) estimates that 31.6% of adults between the ages of 20 and 44 currently have untreated cavities AND that 46% of adults over the age of 29 already have gum disease.  While this is shocking news, matters are made worse by the fact that this is preventable by employing simple daily oral health routines.
Your Overall Health
 Proper hygiene habits and a nutritious diet benefit not just your teeth and gums but your entire body's health and wellbeing.  Preventing gum disease can lead to reducing the risk of other complications, including heart disease, certain types of cancer, respiratory problems, kidney disease, joint inflammation, and even diabetic complications.
Having healthy daily habits is important AND so is keeping routine dental visits a priority. Just like you go to doctors for other annual check-ups, it is extremely important to visit your dentist every 6 months for routine cleanings, x-rays, and check-ups.  Just remember, prevention is WAY easier than treating a problem that does arise! Besides, consistent proper care is FAR more comfortable (and affordable) than treating problems that do arise!
Your Teeth Are Worth Your Investment
 Daily habits, such as flossing, brushing and using mouthwash, most definitely help with caring for your teeth and oral hygiene.  It is also very much worth your time and money if you see a dentist regularly, every 6 months, for a full cleaning and exam.  Look at this cost and prevention as an investment in critical resources rather than "just another expense" because the pain of dental problems and payment for their repairs can be mostly avoidable.
At Park 56 Dental, we are dedicated to safely and comfortably helping you care for your smile.  Our talented staff are compassionate about our services.  Contact us today to make an appointment and invest into the quality and caring of and for your smile! So, what are you waiting for?  Contact us today to schedule an appointment at (646)679-3989!