Why You May Still Have Bad Breath Even After Brushing and Flossing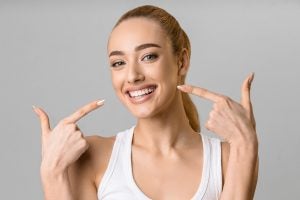 You brush, you floss, you rinse, and you may even chew gum. So why do you still have bad breath? Bad breath, also called halitosis, is an embarrassing condition. It commonly comes from different parts of the oral cavity, but can sometimes be caused by an underlying health issue. How can you identify the cause and get rid of bad breath? Let's look at some common scenarios that lead to halitosis.
The most straightforward cause of bad breath is a dirty mouth. You've probably already tried brushing and flossing, but let's discuss it just to cover all the bases. Bacteria, food particles, and mucosal cells your body sheds in your mouth can all lead to bad odors, so brushing thoroughly is your first line of defense against halitosis. You have to really get into every nook and cranny of the mouth, and if you have crooked teeth this can be difficult. If it seems like your crooked teeth are harboring odors, consider braces to improve your oral hygiene. And here's something you may not know: the tongue is the most common place for bad breath to originate, because people often forget to brush their tongues. If you think your tongue may be the culprit, you can brush it with your toothbrush or get a tongue scraper.
Gum (periodontal) disease can cause bad breath. If you've been lax with your dental hygiene, allowing plaque to accumulate around the teeth, you may end up with a tartar build up. This can cause gum disease, known in the early stages as gingivitis. This is an infection of the gums, but as it advances, it can cause the bone around your teeth to deteriorate and decay. As you can guess, this smells unpleasant. Regular dentist appointments are the only way to identify and stop the progress of periodontal disease.
A dry mouth can have a bad odor. Saliva flow is necessary to keep the mouth free from debris, so if your mouth is dry, it can lead not just to bad breath but also to cavities and gum disease. Some medications can cause dry mouth, as can alcohol and tobacco products. Talk to your dentist about dry mouth treatment if this seems to be your problem.
Health problems can cause halitosis. Post-nasal drip from a sinus infection, cold, flu or strep throat can attract odor-causing bacteria. Acid reflux and chronic conditions like diabetes, kidney failure, liver failure, peptic ulcer, or intestinal blockage can all be the root of bad breath.
To keep your mouth healthy, clean, and smelling good, regular dental appointments are important. At Park 56 Dental Group, we offer pediatric, prosthodontics, endodontics, oral surgery, Invisalign®, emergency, and sedation dentistry, all at the highest level of treatment. We serve the Midtown, Central Park, Upper East Side, Park Avenue, and all surrounding Manhattan and New York areas, with a patient-centered practice that has hours to fit your schedule. Schedule your complimentary consultation today by contacting us online or calling us at (212) 826-2322.
.