What is General Dentistry?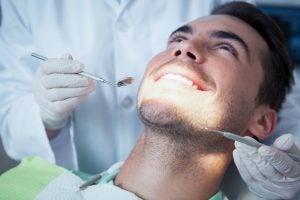 When following the recommended schedule, you'll see your dentist twice a year. That's more than you see other doctors, because while most doctors tend to the sick, dentists are primarily concerned with preventing problems. Most dentists practice general dentistry, and at a routine visit the dentist- with the help of dental assistants- will examine the mouth, provide a professional cleaning, and discuss the patient's health and oral hygiene. But that's not the entire scope of general dentistry. Let's take a look at all the things that general dentists do.
Preventive services are the mainstay of a general dentistry practice. Regular exams and professional teeth cleanings help patients maintain good oral health, as do preventive treatments like dental sealants. The dentist can also fit patients with active lifestyles for custom-made mouthguards.
When there's a problem, dentists provide restorative services. One of the most common restorative treatment is a filling. The dentist removes tooth decay and puts a filling in the damaged tooth. However, that's not the only restorative procedure provided by general dentists. They can also provide treatment for dental trauma, like when a tooth has been broken, knocked out, or loosened. Dentists can also diagnose and treat tooth pain and gum disease, offer treatment for missing teeth, place crowns or bridgework, and fit patients for dentures. Some general dentists can also perform advanced treatments like root canal therapy, orthodontics, and dental implants.
Often, general dentists perform cosmetic procedures to help improve their patients' smiles. Teeth whitening, cosmetic bonding, and even porcelain veneers can be provided by your dentist's office.
General dentists are concerned with their patients' overall health. Your oral health impacts and reflects the health of your body. For instance, infections in your mouth can impact your cardiovascular health, and people with diabetes are more susceptible to periodontal (gum) disease. General dentists can identify issues with your teeth than can have an impact on your health and offer treatment or referral when necessary. One condition dentists can screen for is obstructive sleep apnea, which can sometimes be treated with an oral appliance. General dentists are also qualified to provide nutritional counseling, advice about tobacco cessation, and general health and wellness information. They can also screen for oral cancer.
What qualifications are required for general dentistry? Dentists must successfully complete their undergraduate education and four years at an accredited dental school. They then have to fulfill testing and continuing education requirements of state licensing boards. Dentists may have the initials DMD or DDS following their names, but they all have the same education and training.
At Park 56 Dental Group, we offer pediatric, prosthodontics, endodontics, oral surgery, Invisalign®, emergency, and sedation dentistry, all at the highest level of treatment. We serve the Midtown, Central Park, Upper East Side, Park Avenue, and all surrounding Manhattan and New York areas, with a patient-centered practice that has hours to fit your schedule. Schedule your complimentary consultation today by contacting us online or calling us at (212) 826-2322.