Dental Terms to Know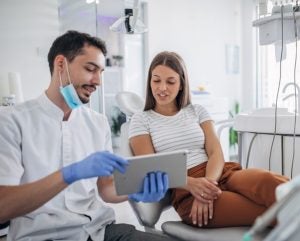 When you visit the dentist, you may sometimes hear terms you don't understand. This is not unusual, because dentists often use very specific medical terminology that is unfamiliar to most patients. If you aren't sure what the dentist is talking about, you should always ask questions, so that you'll understand what's going on with your mouth. In the meantime, here's a list of common dental terms that are good to know.
Abrasion: Tooth wear caused by forces other by eating.
Abutment: Tooth or implant supporting a dental prosthesis.
Anesthesia: General anesthesia is a controlled state of unconsciousness, intravenous sedation is depressed consciousness that's medically controlled, and local anesthesia, also called regional, is the loss of sensation without the loss of consciousness.
Arch: An upper or lower denture.
Bicuspid: Premolar tooth with two cusps.
Bilateral: Occurring on both sides.
Bonding: Composite resin applied to a tooth to change its color or shape.
Calculus: Hard deposit of mineralized material on crowns or the roots of teeth.
Composite: Restorative material made of a mixture of parts.
Dentin: The inner layer of the tooth, protected by enamel and encasing the tooth's pulp and nerve.
Dry mouth: When the mouth doesn't produce enough saliva- untreated, it can lead to increased levels of tooth decay and mouth infections.
Enamel: Hard outer layer of the tooth, made of minerals.
Excision: Surgically removing bone or tissue.
Extraction: Removing a tooth or tooth parts.
Fluoride: A natural mineral that makes the tooth's exterior resistant to decay.
Implant: A permanent replacement for missing teeth, surgically placed in the jawbone to anchor replacement teeth, a dental bridge, or dentures.
Invisalign®: Clear, removable, dental aligners for mild to moderate orthodontic issues.
Laser dentistry: Lasers are used for tooth decay removal, gum disease treatment, root canal therapy, and teeth whitening.
Oral surgery: Dental specialty that corrects problems or damage to the teeth, mouth, and jaw.
Periodontal disease: Gum disease. Gingivitis is an early stage.
Plaque: Sticky film that forms on teeth as bacteria breaks down that causes decay if not removed.
Radiograph: X-ray
Root: Portion of the tooth located in the socket.
Scaling: Removal of plaque, calculus, and stain from teeth.
Sealant: Plastic resin applied to the biting surfaces of molars to prevent caries.
Sedation dentistry: The use of medication to help patients relax during dental procedures.
Tartar: Hardened plaque that can only be removed by scaling.
TMJ: Temporomandibular joint, the hinge mechanism between the base of the skull and the lower jaw.
Veneer: Tooth-colored material attached to the tooth surface.
At Park 56 Dental Group, we offer pediatric, prosthodontics, endodontics, oral surgery, Invisalign®, emergency, and sedation dentistry, all at the highest level of treatment. We serve the Midtown, Central Park, Upper East Side, Park Avenue, and all surrounding Manhattan and New York areas, with a patient-centered practice that has hours to fit your schedule. Schedule your complimentary consultation today by contacting us online or calling us at (212) 826-2322.