How Often Should You Be Going to the Dentist?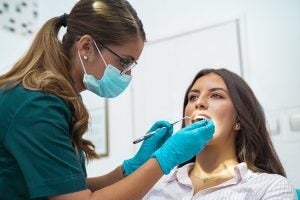 How often do you see your dentist? About one hundred million Americans skip out on regular dental checkups, even though seeing a dentist regularly is vital for good oral health. Your dentist probably encourages you to come twice a year, but is that really necessary?
Truthfully, there's little research supporting the twice a year recommendation. So, how often should you be going to the dentist? It depends on a few factors. Some people need to go to the dentist more than twice a year. This high-risk group includes pregnant women, smokers, people prone to plaque build-up or cavities, those who have gum disease or diabetes, and anyone with a weak immune response. People who practice excellent oral hygiene and show no signs of gum disease or cavities may be able to get away with going to the dentist less often than twice a year, but that is something to discuss with the dentist.
Even if you're diligent about brushing twice a day and flossing daily, seeing your dentist regularly is important. That's because dentists and dental hygienists can spot problems you can't see and prevent them from becoming major issues. When you go to the dentist, here's what you can expect:
X-rays: At the beginning of your appointment, the dental hygienist will take any x-rays you need so that the dentist can look at them while your teeth are being cleaned.
Cleaning and Polishing: Using scalers and other dental tools, the hygienist will gently remove plaque and tartar from tooth surfaces and just below the gum line. Your teeth will then be polished with a paste, and the hygienist will floss between your teeth. During the cleaning, the hygienist will let you know if there are any areas to which you need to pay more attention when brushing and flossing, and instruct you on proper brushing and flossing techniques.
Oral cancer screening: By examining your palate, tongue, throat, inside of cheeks, and other parts of your oral cavity and feeling the outside of your jaw and throat, your dentist will be able to spot any signs of cancer. Because oral cancer is most successfully treated when detected early, this screening is very important.
Cavity detection: The dentist will examine your teeth for cracks, chips, decay or other damage, and the hygienist will chart any teeth that require treatment.
Gum assessment: Your dentist will check for signs of gingivitis or periodontal disease. Gum disease is reversible when detected in the early stages.
Dental appliance check: Because dental appliances don't last forever, the dentist will check to see if anything needs replacing.
At Park 56 Dental Group, we offer pediatric, prosthodontics, endodontics, oral surgery, Invisalign®, emergency, and sedation dentistry, all at the highest level of treatment. We serve the Midtown, Central Park, Upper East Side, Park Avenue, and all surrounding Manhattan and New York areas, with a patient-centered practice that has hours to fit your schedule. Schedule your complimentary consultation today by contacting us online or calling us at (212) 826-2322.