Celebrities Who Have Had Cosmetic Dentistry Procedures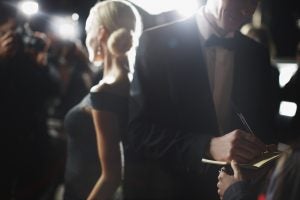 The first stanza of a poem by Phyllis McGinley, called "Reflections Dental" reads:
How pure, how beautiful, how fine
Do teeth on television shine!
No flutist flutes, no dancer twirls
But comes equipped with matching pearls.
Gleeful announcers all are born
With sets like rows of hybrid corn.
Have you noticed that every celebrity seems to have perfect teeth? Are they born that way? Actually, many celebrities choose cosmetic dentistry procedures to make them look more perfect. Did you suspect the stars on this list of improving their pearly whites?
Tom Cruise: His winning smile is the result of whitening, straightening, and an upgrade to porcelain veneers.
George Clooney: Although his smile was always gorgeous, his history of tooth grinding shortened his teeth until they were lengthened with veneers
Gary Busey: Speaking of having teeth lengthened, Gary Busey opted for outsized veneers after an accident.
Mike Tyson: He had a gold tooth and a gap, but then he had the gap narrowed and traded in the gold for veneers. Surprisingly, because it was his signature look, he had the gap added back!
Hillary Duff: After chipping a tooth on a microphone during a show, she decided to get a full set of veneers instead of a single repair.
Ben Affleck: He used to have an overbite, but after lengthening, porcelain veneers, crowns, and whitening, he's got a dazzling smile.
Victoria Beckham: Posh Spice's teeth used to be less than posh, but she's had them fixed with a set of veneers.
Jim Carrey: He once had a broken tooth capped, and he removed that cap for his snaggle-toothed Dumb and Dumber smile. Since then, he's gone for veneers.
Morgan Freeman: He was successful when he had gapped teeth, but in recent years he's gotten whitening and used veneers to straighten his teeth.
Miley Cyrus: The slightly crooked teeth of this child smile were replaced with veneers once she grew up.
Catherine Zeta-Jones: Teased as a child over crooked teeth, she fixed her alignment with orthodontics and upgraded her smile with veneers.
Chris Rock: The success of Lethal Weapon allowed him to spend $150,000 on a new smile!
Zac Efron: His charming gap-toothed grin has been replaced with the perfection of veneers, but he wore false teeth to play Bundy.
Nicolas Cage: He had two teeth pulled for the 1984 film "Birdy" but has since gotten a full set of veneers.
50 Cent: Shot in the face in 2000, he lost a tooth a gained a gap. He later fixed his teeth with whitening and veneers.
Do any of these names surprise you? Here's some good news: the same procedures used by celebrities are available for you. At Park 56 Dental Group, we offer dental care, including smile restoration, providing the highest level of treatment. We serve the Midtown, Central Park, Upper East Side, Park Avenue, and all surrounding Manhattan and New York areas, with a patient-centered practice that has hours to fit your schedule. Contact us online or call us at (212) 826-2322.