How to Care for Your Invisalign Aligners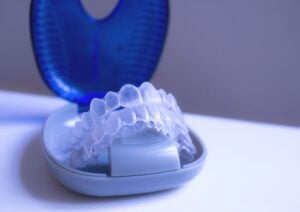 One of the most significant benefits of Invisalign is that you can remove it to eat and drink. Unlike metal braces, this means there are no dietary restrictions, so you can eat whatever you want while straightening your smile with nearly invisible plastic aligners! Still, keeping the aligners clean is an important part of your treatment plan. With proper care, you'll keep your Invisalign clear, odorless, and free of bacteria buildup. Here's what you need to know.
Rinse Your Aligners Whenever You Take Them Out
Rinsing your aligners helps remove saliva, bacteria, and plaque before putting them in their storage case. This is an important step even if you're not at home, so be sure to locate a drinking foundation or bathroom sink before removing your Invisalign.
Remember, you should take out your aligners to eat and drink anything other than water. Otherwise, the clear plastic is liable to stain. Still, you should wear your aligners for at least 22 hours a day to ensure your treatment stays on schedule, so refrain from snacking too often.
Clean Your Invisalign Morning and Night
When brushing your teeth before bed and after waking up each morning, clean your Invisalign as well. This involves brushing the aligners with a soft toothbrush (different from the one you use on your teeth) with clear, anti-bacterial liquid soap. It may seem counterintuitive, but you should not use toothpaste to brush Invisalign aligners. Doing so could cloud the plastic and make it appear more visible in your mouth.
Invisalign care also involves soaking the aligners in a cup of manufacturer-provided cleaning crystals dissolved in lukewarm water. Soak for 15 minutes once a day to keep your aligners sanitized and odor-free.
Brush After Eating
Proper Invisalign care isn't just about cleaning the aligners—it's also about having good oral hygiene. In addition to brushing and flossing each morning and night, Invisalign wearers should make a habit of brushing after each meal or snack before putting the aligners back in. This prevents trapping food particles against your teeth, which could lead to cavities and staining. If brushing isn't an option, rinse your mouth out thoroughly with water.
Store Your Invisalign Aligners in a Dedicated Case
Whenever you remove your aligners, put them in their case immediately. Otherwise, you risk damaging, losing, or accidentally throwing away your Invisalign. This tip applies even when you're out and about, so it's helpful to have two cases—one for at home and one for on-the-go.
Remember to keep your Invisalign case clean as well. Once a week, brush the case with the same toothbrush and soap you use with your aligners. Let the case air dry before closing it again.
If you have more questions about caring for Invisalign, or you're ready to straighten your smile using this cutting-edge technology, please contact Park 56 Dental at (212) 826-2322. We offer a complimentary consultation with our knowledgeable dentist so you can find the answers you seek before moving forward with your Invisalign treatment.