Does menopause affect your oral health?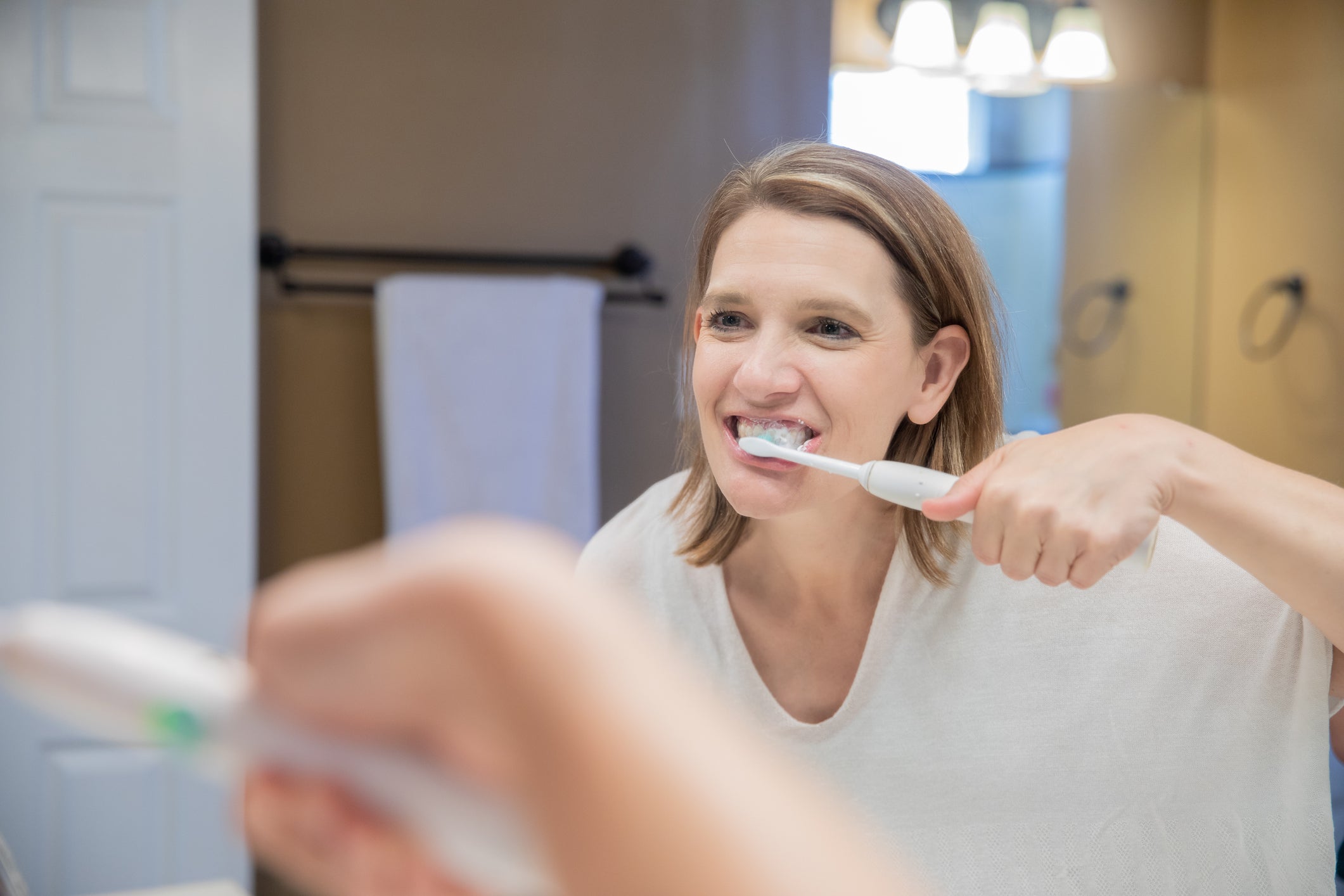 Menopause is a time of life that brings many unpleasant surprises. Hot flashes, insomnia, and mood swings are some of the commonly known symptoms that affect women going through this stage. Less known is the impact of fluctuating hormone levels on the mouth, but there definitely seems to be a link. As estrogen levels decrease during perimenopause and menopause, many women notice sensitive teeth, painful gums, dry mouth, and other issues.
Hormonal fluctuations can cause tooth sensitivity. If you often find that your teeth hurt after you eat or drink hot or cold things, you may have sensitive teeth. This condition happens when the inner part of the teeth, the dentin, lose their enamel and cementum coatings, leaving the nerves inside vulnerable.
Gum inflammation is another side effect of menopause. Women going through menopause might experience gingivostomatitis, an oral health condition that causes gum inflammation and canker sores. Periodontal disease can also develop due to low estrogen levels, leading to gum inflammation, bright red or purple gums, gum tenderness and bleeding, receding gums, pus formation, bad breath, bite issues, and loose teeth or gaps between the teeth. Interestingly, another problem that often occurs with menopause is lowered bone density, which can cause bone loss in the jawbone. The treatment for this condition often includes bisphosphonate drugs, which also help prevent the progression, of periodontal disease. Your dentist or periodontist can also treat periodontal disease by scaling to remove tarter, prescribing antimicrobial oral rinses or oral antibiotics, or performing flap surgery. For severe disease, bone or tissue grafts may be necessary. Practicing impeccable oral hygiene is a major part of controlling periodontal disease, and so is quitting smoking.
Changes in hormone levels can change the way food tastes. Salty, sour, or peppery foods bother some women, and food can sometimes taste unusually bitter or metallic. Sometimes, these menopause-related taste changes are accompanied by a condition known as burning mouth. As the name implies, burning mouth causes burning, pain, and tenderness around the mouth, including the lips tongue, and cheeks.
Tooth pain can be caused by menopausal changes. For example, declining estrogen levels can decrease the thickness of the oral mucosal epithelium, leading to greater sensitivity to pain and higher vulnerability to mouth infections.
Dropping hormones can cause dry mouth. Hormones help support saliva production and maintain the consistency of the saliva, but lower levels of estrogen can decrease your mouth's ability to produce saliva. Dry mouth makes it uncomfortable to eat, but it can also cause gum sensitivity, mouth ulcers, sore gums, an increase in infections, and cavities.
Often, doctors prescribe hormone replacement therapy to help combat the signs of menopause. However, it's also important to work with your dentist to keep your oral health in good shape. Regular cleanings and check-ups, brushing and flossing daily, taking supplements like calcium and vitamin D, and using products to treat sensitive  teeth and dry mouth can all be part of maintaining oral health during menopause. It's also important to have a good dentist.
At Park 56 Dental Group, we offer pediatric, prosthodontics, endodontics, oral surgery, Invisalign®, emergency, and sedation dentistry, all at the highest level of treatment. We serve the Midtown, Central Park, Upper East Side, Park Avenue, and all surrounding Manhattan and New York areas, with a patient-centered practice that has hours to fit your schedule. Schedule your complimentary consultation today by contacting us online or calling us at (212) 826-2322.