8 Bad Habits That Ruin Your Dental Health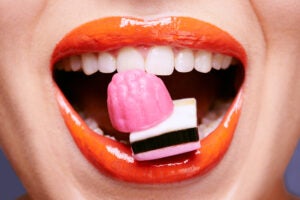 Are you looking for ways to take better care of your smile? It's easy to focus on things you should do, like brush morning and night, floss once a day, and visit your dentist for a professional cleaning every six months. But what about the things you shouldn't do? Here are eight bad dental health habits that you need to break right now.
Chewing on ice or hard candy: Munching on the ice cubes at the bottom of your drink may seem harmless, but this habit can damage your teeth if you bite down wrong. Chill your beverage before serving it to avoid needing ice, or drink from a straw to reduce the temptation to chew.
Biting your nails or chewing on pens: These bad habits introduce harmful germs into your mouth, damage your teeth, and lead to jaw dysfunction. If you want to stop biting your nails, try wearing bitter-tasting nail polish.
Using your teeth as tools: Never use your teeth to open packages, undo knots, tear tape, or open bottles. Instead, find the right tool for the job, such as scissors or a bottle opener.
Constantly snacking or sipping on sugary drinks: Eating nonstop keeps your teeth in constant contact with food particles, increasing the risk of cavities. This habit is even more problematic if your snacks or drinks have high sugar content. The solution is to eat balanced meals so you aren't tempted to snack all day. Then, reach for water instead of juice, soda, or sports drinks.
Brushing too hard: Aggressive brushing can wear down tooth enamel and irritate your gums. To avoid these problems, choose a soft-bristled toothbrush and focus on gently massaging your teeth, not scrubbing them raw.
Playing contact sports without a mouthguard: It only takes one hit to the mouth to chip, break, or even lose a tooth. You might also bite your cheek or tongue. To protect your teeth and soft tissues, ask your dentist about creating a custom mouthguard.
Grinding your teeth: Stress can cause nighttime tooth grinding, or bruxism, a habit you have little control over. If you think you grind your teeth in your sleep, the best solution is to wear a special nighttime mouthguard your dentist makes just for you.
Smoking or chewing tobacco: Using tobacco products of any kind stains your teeth, causes gum disease, and increases the risk of oral cancer. Save your dental health—talk to your dentist for tips to quit smoking
At Park 56 Dental, we know it can be hard to break bad oral health habits. But just a few small changes can go a long way toward preserving your smile! For more tips or to schedule your next dentist visit, feel free to get in touch. We've been voted the best dentist in New York, with over 20 years of experience serving the 10022 zip code area. Call us at (212) 826-2322 or contact us online to speak with our NYC dentist today.