What is an All-on-4 Implant Procedure?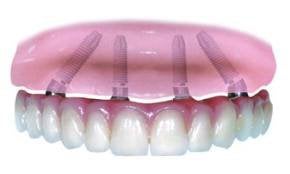 Just a decade ago, most patients were unaware that an All-on-4 implant procedure even existed. Today, many people specifically request this alternative to dentures and traditional full-arch implants. What exactly is this restoration technique, and could it be right for you?
About All-on-4 Implants
All-on-4 implants are a full-arch fixed dental implant bridge. This technology immediately replaces an entire row of teeth. As the name suggests, all the teeth are supported on just four posts that are surgically implanted into your jawbone. The result is a mouthful of healthy-looking, naturally functioning teeth.
Benefits of All-on-4 Implants
If you're considering dental implants for a full arch of teeth, All-on-4 implants might be the better choice. The procedure is faster, more cost-effective, and requires no bone grafting for most patients. Plus, only four posts are needed compared to six or eight posts. In this way, All-on-4 implants save you time, money, and discomfort compared to traditional full-arch implants.
Then, unlike dentures, All-on-4 implants:
Are permanent additions to your mouth that can be brushed like natural teeth
Never have to be taken out
Require no adhesives
Support a strong bite force so you can eat all your favorite foods again
Are comfortable because they are in a fixed position rather than pressing on your gums when you bite and chew
Allow for the full taste and temperature experience of your food
Prevent jawbone deterioration
Help you maintain a healthy facial structure
The All-on-4 Implants Procedure
This technology uses "tilted implants" to increase strength and stability, as well as avoid damage to the sinus cavity in the upper jaw and the nerve canal in the lower jaw. The initial surgery involves installing the implants. A temporary set of teeth is placed over the implants before you leave the office. Once the healing process is complete about six months after surgery, a permanent, custom bridge is placed.
Candidates for All-on-4 Implants
You may be a good candidate for this procedure if you are missing most or all of your teeth on one or both arches. It doesn't matter whether you already wear dentures or not. Age is also not a limiting factor—as long as you're in good overall health, you may qualify.
Be prepared to take excellent care of your All-on-4 implants, using many of the same techniques you would expect with natural teeth. Proper care is needed to help your implants last for many years to come. Rest assured that your dental hygienist will review all instructions with you and recommend the best daily oral care plan to fit your needs.
The skilled dentists at Park 56 Dental work with the nation's top laboratories for access to 3D, digitally guided plans. This ensures expert post placement and flawless prosthetic teeth for a smile you can be proud of! If you're interested in learning more about the All-on-4 implant procedure, please contact us online or call our New York City dentist office at (212) 826-2322.