What is a Dental Bridge?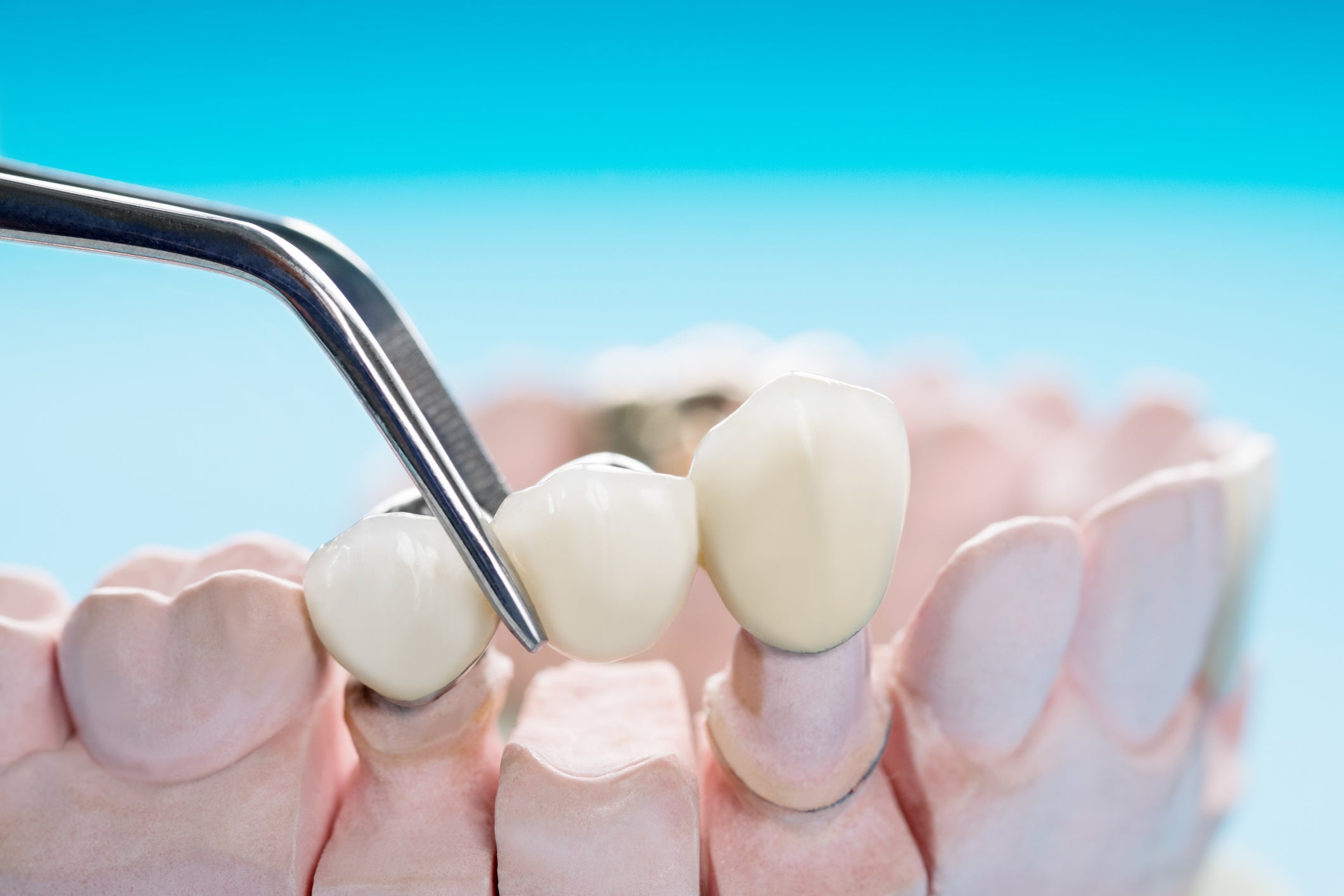 There are several options for replacing missing teeth, including dental bridges. Closing the gap in your smile can help prevent problems with your existing teeth and gums, including driting, bone loss, difficulty chewing, or speech problems. Learn more about dental bridges to help you decide if this is the right restorative treatment for you.
What is a Dental Bridge?
Dental bridges literally "bridge the gap" left by one or more missing teeth. A bridge is comprised of multiple parts:
Crowns cap the teeth on either side of the gap, known as the abutment teeth.
One or more false teeth, called pontics, are suspended between the crowns to replace the missing tooth or teeth.
Crowns and pontics may be made of porcelain, alloys, gold, or other materials.
What is the Process of Receiving a Dental Bridge?
Your first visit with the dentist involves preparing the abutment teeth by removing some of the enamel. This creates room to place crowns, which serve as anchors for the pontic cemented between them.
During the same visit, your dentist takes an impression of your teeth to use as a model when creating custom pontics and crowns for your dental bridge. A temporary bridge protects your exposed teeth and gums until the permanent product is finished.
At your second appointment, the dentist removes the temporary bridge and puts the new pontic and crowns in place. Temporary cement ensures a comfortable fit. After a few weeks, you return to the dentist one final time to have the bridge firmly cemented in place.
Factors to Consider
When comparing bridges with other tooth-replacement options, keep these factors in mind:
Time: You can complete the dental bridge process in two or three visits spaced within a few weeks of each other.
Cost: While your insurance coverage determines what you pay out of pocket, bridges tend to be a middle-of-the-road option, with dentures costing less and implants costing more.
Longevity: With excellent oral hygiene and regular checkups, dental bridges can last up to 15 years.
Aesthetics: Pontics aren't embedded in the gum line, so it may be possible to distinguish them from your natural teeth upon close inspection. For this reason, bridges often replace teeth toward the back of the mouth.
Comfort: Bridges are not removable, so there's no risk of slipping, which may exist with some types of dentures.
Oral care: Whether you have a dental bridge or not, you should brush twice a day and floss once a day. If you have a bridge, your dentist may also recommend using antiseptic mouthwash and a special flossing tool to clean out debris from under the pontic.
Park 56 Dental is pleased to offer bridges and other smile restoration options to meet your diverse needs. We operate out of our spa-like, patient-centered New York office that makes going to the dentist a pleasure. Contact us online or call us at (212) 826-2322 to schedule a consultation for dental bridges in NYC today.