Why our Teeth Shift or Become Crooked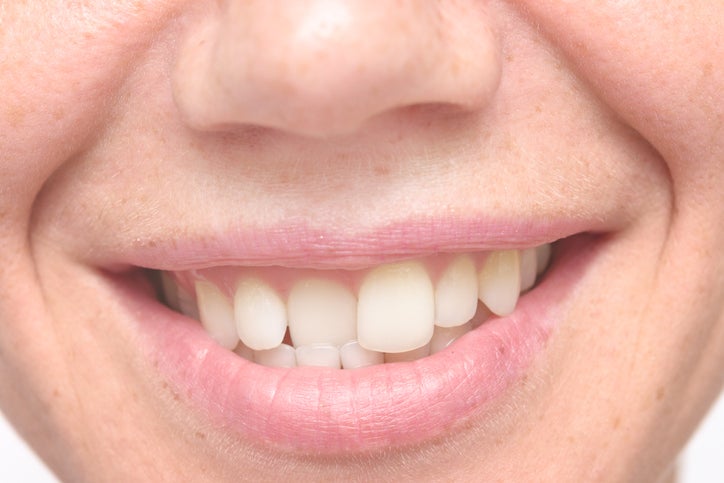 Have you noticed a shift in your bite? You might think that your teeth are firmly attached, but it's actually very common for them to shift, becoming crooked or misaligned. What causes teeth to move around in your head? And what should you do about it?
Sometimes baby teeth become crooked. It doesn't necessarily mean the permanent teeth will be crooked, but in some situations it does. Baby teeth may just be crooked because they're too small for the available gum space. If a child sucks a thumb or pacifier for too long, the baby teeth may become crooked, and if there is trauma to the mouth or tooth decay that causes a baby tooth to fall out prematurely, the permanent teeth may grow in crooked. If the baby teeth are crowded, the permanent teeth probably will be too. Genetics and heredity play a role, and poor dental habits and poor nutrition are sometimes the problem.
Your jaw size may be to blame. Some scientists believe that our teeth often become overcrowded because our jaws have evolved to be smaller than they used to be. Interestingly, the lower jaw grows forward continually, throughout a person's lifetime. This can cause the lower front teeth to bump into the upper front teeth, which either makes the top teeth spread out or the bottom teeth become crowded. On the other hand, the width of your lower jaw diminishes over the years, which also contributes to crowding of the lower teeth.
Teeth can lose enamel and change shape. Whether it's because of an injury or acid erosion, sometimes enamel is lost from your teeth, changing their shape. This can cause them to move out of alignment. Grinding the teeth, a condition called bruxism, can change the shape of the teeth as well.
As you age, your teeth may shift. Aging causes bones, ligaments, and muscles to grow weaker. What's more, the constant pressure of moving against each other can wear teeth down, causing them to shift and crowd.
Sometimes, there's no reason to do anything about teeth that have shifted. Your quirky, crooked smile may just be part of who you are, and there's nothing wrong with that. There are some factors, though, that would make it a good idea to move your teeth back where they belong. If it's hard to chew, to speak, or to keep your teeth clean, or your crooked teeth are diminishing your confidence, there are many options available for straightening them.
At Park 56 Dental Group, we provide personalized, quality dental care in a spa-like environment. We offer pediatric, prosthodontics, endodontics, oral surgery, Invisalign®, emergency, and sedation dentistry, all at the highest level of treatment. We serve the Midtown, Central Park, Upper East Side, Park Avenue, and all surrounding Manhattan and New York areas, in a patient-centered practice with hours to fit your schedule. Schedule your complimentary consultation today by contacting us online or calling us at (212) 826-2322.