The Importance of Dental Cleaning
Good oral health is important for everyone. After all, healthy teeth and gums help you smile with confidence. That's why you're diligent about brushing and flossing every day. Considering how well you take care of your mouth at home, you may wonder if professional dental cleanings are worth the time and effort.
The American Dental Association recommends having your teeth cleaned twice a year. Despite this advice, almost a third of Americans fail to visit the dentist even once a year. If you haven't had a professional cleaning in a while, brush up on why it's so important to visit the dentist regularly.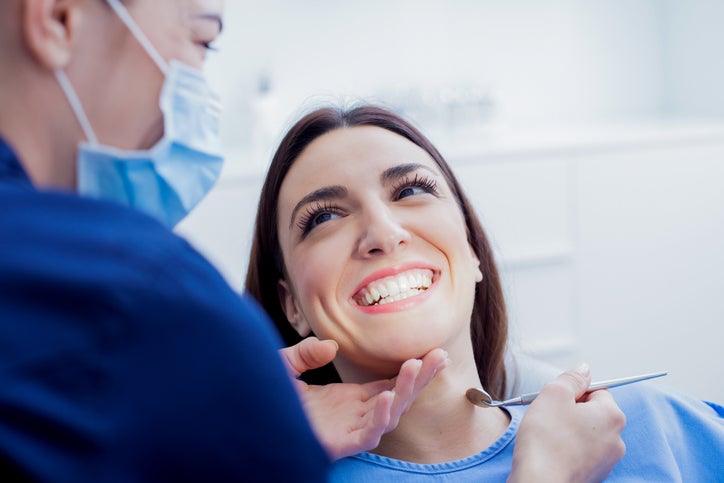 Detect Dental Problems Early
In addition to cleaning your teeth, the dentist can also screen you for other problems such as oral cancer, cavities, broken fillings, and gum disease. Early detection means you can start treatment right away, potentially avoiding a root canal, gum surgery, or tooth extractions. This not only saves you the hassle of having these procedures done—it also helps you avoid the costs that go with them.
Protect Your Teeth and Gums
Nearly 75 percent of Americans have some form of gum disease, also known as periodontal disease, many of whom don't even know it. The earliest stage of the disease, called gingivitis, doesn't cause pain or other obvious symptoms, so it can go undiagnosed if you never visit the dentist. Left untreated, gum disease can cause tooth loss. Luckily, with an early diagnosis, you can treat or even reverse the condition.
Prevent Bad Breath
Underlying dental problems are to blame for most cases of chronic bad breath, also known as halitosis. With regular cleanings to keep your teeth healthy and free of tartar buildup, you can prevent bad breath from getting in the way of your social life.
Protect Your Health
Did you know that taking good care of your teeth can improve your overall wellbeing? Numerous studies have shown a link between gum disease and your heart, lungs, kidneys, and more. Here are some interesting facts from the American Dental Hygienists' Association to keep in mind:
If you have gum disease, you are more likely to develop cardiovascular problems, including heart disease and stroke.
95 percent of Americans with diabetes also have periodontal disease.
Harmful bacteria in the mouth caused by gum disease can aggravate respiratory conditions.
Early signs of kidney disease, osteoporosis, eating disorders, HIV/AIDS, and other conditions often appear in the mouth and can be detected during a dental cleaning.
Oral cancer is curable in its early stage, but it must be diagnosed at a dentist's office before treatment can begin.
Park 56 Dental is pleased to help our customers smile confidently with routine dental cleanings. Visit our spa-like, patient-centered New York dentist office for personalized, quality care. You'll feel so pampered that you won't believe you used to postpone trips to the dentist! Contact us online or call (212) 826-2322 to schedule your initial visit with us today.