How Acid Reflux Can Ruin Your Teeth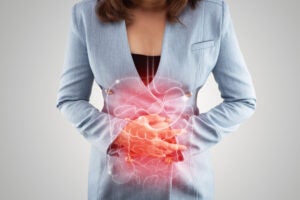 Heartburn is a common complaint, but if you're experiencing heartburn or acid indigestion on a daily basis, you may be suffering from Acid Reflux, also known as GERD, Gastroesophageal Reflux Disease. GERD happens when the muscles of the esophagus relax and let stomach acids flow upward, sometimes into the mouth. As the condition progresses, the esophageal lining becomes corroded. It's very uncomfortable, causing the burning sensation of heartburn. But have you ever considered that acid reflux could be damaging your teeth?
Some of the symptoms of GERD include not only heartburn, but also difficulty swallowing, a burning sensation in the mouth, a sore throat and regurgitation. A person with GERD may experience nausea, vomiting, belching, and chronic coughing. Stomach acid that reaches the mouth can also cause erosion of tooth enamel, tooth sensitivity, chipping and discoloration of teeth, and bad breath.
You probably already know that acid is bad for your tooth enamel. Oral acid, which is usually produced by bacteria, foods, and beverages, can dissolve the minerals in enamel, causing erosion and decay. Stomach acid is extremely strong, with a pH of 2.0 or less, so it can cause even worse damage to the enamel, leaving teeth yellowed, pitted, and sensitive.
What can you do to keep GERD from ruining your teeth? Talk to your doctor about managing your symptoms. You might need medication, and your doctor may recommend some lifestyle changes. These include:
Avoiding trigger foods like chocolate, tomato-based foods, alcohol, coffee, and spicy or greasy foods.
Quitting smoking.
Not eating for several hours before bed.
Losing weight.
Not wearing tight clothing.
You can also lessen the effects of acid in your mouth. This can be done by stimulating saliva production by drinking water, taking a saliva booster, or chewing gum. You can also help neutralize acid by rinsing with plain water or a cup of water mixed with ½ teaspoon of baking soda. Antacid tablets can also help balance the pH of your mouth.
Your dentist can also help. Fluoride can strengthen your enamel, and your doctor can apply topical fluoride or prescribe a special rinse that has a higher fluoride concentration than you can get over the counter. Seeing your dentist twice a year allows the condition of your enamel to be evaluated, and your dentist can catch and treat problems while they're still minor.
If you're looking for a dentist in New York, choose the practice that was voted best dentist in NYC! At Park 56 Dental Group, we offer pediatric, prosthodontics, endodontics, oral surgery, Invisalign®, emergency, and sedation dentistry, all at the highest level of treatment. We serve the Midtown, Central Park, Upper East Side, Park Avenue, and all surrounding Manhattan and New York areas, with a patient-centered practice that has hours to fit your schedule. Schedule your complimentary consultation today by contacting us online or calling us at (212) 826-2322.