Why Do Dentists Encourage You to Have Your Wisdom Teeth Removed?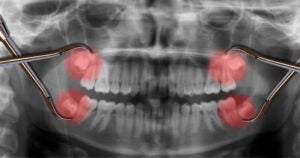 The human mouth goes through numerous changes over the years. For many people, one of the most memorable milestones is the appearance of the third molars around ages 17 to 21. "Wisdom teeth" are so named because they are the final teeth to appear and come in at a mature age.
When wisdom teeth erupt through the gums correctly, they can help with chewing. However, while there's no definitive rule, most people have their wisdom teeth removed. Why is this? And how do you know if you should keep your wisdom teeth or not?
Many situations warrant having your wisdom teeth removed. Here are the most common reasons your dentist may encourage you to make this choice.
Fully Impacted Wisdom Teeth
An impacted tooth fails to erupt through the gums, meaning it remains covered by gum tissue. This may occur if your mouth is too small for the tooth to emerge. Dentists usually recommend removing impacted wisdom teeth because trapped bacteria could cause painful cysts or abscesses to form.
Partially Impacted Wisdom Teeth
A partially impacted tooth erupts partway through the gums. Dentists almost always advise removing wisdom teeth in situations like this. After all, the partial eruption makes it easy for bacteria to get inside, leading to swelling, pain, and stiffness in the jaw. Tooth decay is also more likely because it's difficult to clean a partially impacted tooth.
Overcrowding
Some willful wisdom teeth erupt fully, even if there isn't room in the jaw. This can overcrowd your mouth and damage neighboring teeth. Your entire smile may even shift, throwing off your bite and causing jaw pain.
Necessary for Your Dental Care Plan
Your dentist may recommend wisdom teeth extraction as part of your overall oral care plan. For instance, if you're planning to get braces soon, it's wise (pun intended) to remove problematic wisdom teeth before you begin straightening your smile. And if your wisdom teeth come in after having braces, prompt removal prevents them from undoing all your hard work.
Other Problems
If you decide to keep your wisdom teeth for now, continue to monitor them for signs of trouble. It may become necessary to remove them if issues develop near your wisdom teeth, such as:
Tooth, jaw, or cheek pain
Repeated infections
Gum disease
Extensive tooth decay
The decision to remove your wisdom teeth isn't always straightforward. That's why it's important to visit the dentist regularly. Routine oral exams and X-rays reveal what's happening in your mouth so you can take the best course of action for your oral health.
If your wisdom teeth are giving you trouble, visit Park 56 Dental for a consultation. We offer compassionate, high-quality dentistry in the 10022 zip code area of NYC, and we're confident we can help you make the right choice regarding your wisdom teeth. If you decide to have them extracted, rest assured that we offer sedation dentistry to make you feel more comfortable. Call us at (212) 826-2322 to set an appointment today.