Choosing the Best Toothbrush
You know that you need to brush at least twice a day, but are you using the right tools? Fluoride toothpaste will go a long way toward protecting your teeth from cavities, and the right technique is important in getting your teeth clean. However, it's important that you've got the best toothbrush for the job. How do you choose the right one?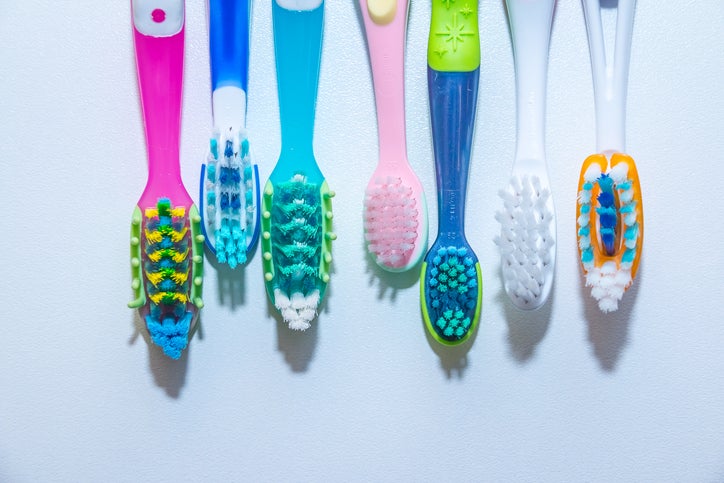 First, consider the size. Choose a toothbrush with a head that will easily fit into your mouth and access all the surfaces of your teeth. Typically, this means picking a brush with a head about a half-inch wide and one inch tall, so that you can reach even the difficult places, like the sides and backs of your molars. Make sure the handle is long enough to fit comfortably in your hand and easily reach the back of your mouth.
Pick the right bristles. For most people, a soft-bristled toothbrush is best, because it won't damage the gums or tooth enamel. For further protection, you might want to choose a brush with rounded tips on the bristles.
Ask an expert. To be sure you're choosing the right toothbrush, consider asking your dentist for a recommendation, or look for a toothbrush with the American Dental Association (ADA) Seal of Approval. This seal ensures that the bristles will have safe tips and won't fall out of the toothbrush, the handle will withstand normal use, and the toothbrush will reduce plaque build-up and gum disease. If the toothbrush is electric, it must undergo independent safety testing to earn the seal, proving that it can be safely used on the tissues of the mouth and teeth, as well as dental hardware.
Which is better, disposable or electric? Manual and powered toothbrushes are equally effective, as long as you're using proper technique and brushing at least twice a day. Some studies indicate that a rotation oscillation powered toothbrush is best, though other studies suggest that electric toothbrushes increase the risk of infection for people with certain heart conditions. Electric toothbrushes are more expensive, but some people find them easier to use, especially people with conditions like arthritis, which limits mobility. Ultimately, the best choice for you is the toothbrush you like best because you'll be more likely to use it.
How do you choose for a child? Choose a toothbrush your child will find appealing and want to use. Make sure it's got the ADA Seal of Approval and is child-sized, with soft bristles. Involve the child, if possible, to make tooth-brushing more exciting.
If you need a dentist in New York, consider Park 56 Dental Group, where we provide personalized, quality dental care in a spa-like environment. We serve the Midtown, Central Park, Upper East Side, Park Avenue, and all surrounding Manhattan and New York areas, with a patient-centered practice that has hours to fit your schedule. Schedule your complimentary consultation today by contacting us online or calling us at (212) 826-2322.