If you have ever looked in the mirror and wished you had straighter teeth, you may have considered the prospect of braces. When you work with the top dentists in NYC, however, Invisalign is an option as well. Keep reading if you are interested in comparing Invisalign to traditional metal braces.
Aesthetics
Although traditional metal braces have been effective in repositioning and correctly aligning teeth, they have not been known to do so in a particularly discreet fashion. Today's braces have come a long way in terms of cosmetic appeal, but Invisalign is still the clear choice when it comes to discreetly realigning your teeth.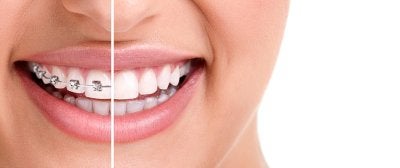 The Invisalign treatment method includes the use of aligners, which are clear plastic trays that guide your teeth into position. In stark contrast to traditional metal braces, these trays are virtually invisible. This advantage makes Invisalign a perfect choice for working professionals.
Flexibility
Traditional metal braces are a commitment, and this turns some people off. While Invisalign is also a commitment, you have the freedom and flexibility to take your aligners out whenever you want. This means that you do not have to restrict your diet to foods that won't get caught in your braces, and you won't have to worry about your meal damaging your orthodontics. You can take your aligners out for an hour or two each day without worrying about your progress being undone.
Dental Hygiene
Since Invisalign aligners are removable, they allow you to care for your teeth the way you normally would. Rather than navigating through a maze of braces and wires, you can brush and floss your teeth with ease. If you want to keep up with your dental hygiene as best as you can during treatment, Invisalign offers the advantage.
For a more detailed comparison of Invisalign and traditional metal braces, contact Park 56 Dental or visit our website. In addition to Invisalign in NYC, our team specializes in dental fillings and teeth cleaning. Feel free to call some of the top dentists in NYC at (646) 783-3529 or stop by our offices to meet with us today.