Are you afraid to smile in public? Do you often think of orthodontic treatment, only to dismiss it because you don't want to wear braces? You can have the straight, stunning smile you desire without conventional metal braces. Invisalign care offers all the advantages of braces, plus several additional benefits. If you want subtle cosmetic improvement to your teeth with none of the shortcomings of metal braces, ask your  cosmetic dentist  about your options for Invisalign treatment.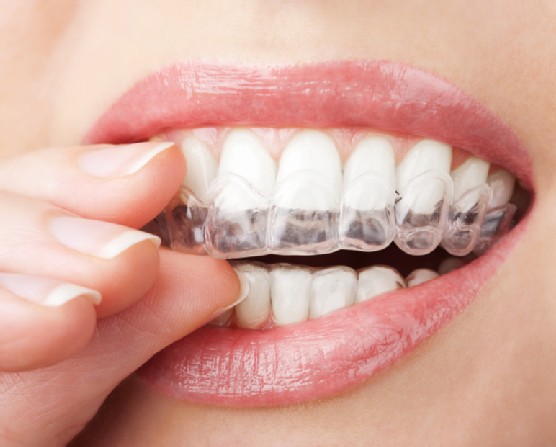 No Metal Brackets
A chief reason why so many adults decide against teeth-straightening care is because they don't want others to know that they're getting it. When you wear metal braces, you can't hide them from others. When you wear Invisalign aligners, however, you can rest assured that  no one will be aware of your treatment  except you. These totally transparent devices fit comfortably around your teeth and gently move them into alignment without anyone else realizing that you are undergoing orthodontic care.
No Food Restrictions
Metal brackets and wires can make it difficult to eat a wide assortment of foods, including apples and corn on the cob. Other foods such as nuts can cause significant pain after wire adjustment. Invisalign treatment comes with no food restrictions. These aligners can come out each time you sit down for a meal or have a snack. You can eat whatever you want whenever you want with no drawbacks.
No Hygiene Complications
Because you can remove your aligners as needed, never do you have to compromise your oral hygiene habits. While traditional braces can make brushing and flossing difficult, since brackets and wires obstruct tooth and gum surfaces, Invisalign aligners allow for easy and comprehensive oral care. As a result, you can complete your Invisalign treatment without having to worry about cavity or gum disease complications.
Would you like  to learn more  about the Invisalign system? Call Park 56 Dental at (212) 826-2322 for a complimentary consultation. We offer an extensive selection of cosmetic enhancement services for NYC residents.